Joan Hawksbridge - Artist
My work has evolved during a thirty five year studio practice in Owen Sound, Ontario. My studio is in my home in Owen Sound overlooking the Sydenham River.
The interactions found in natural processes have been underlying themes in my work. The intersections of nature and culture have been the basis for a semiabstract interpretation of these natural (and un-natural) changes. I have chosen a path of exploration and experimentation using many media and stimuli. This gives me freedom to follow my curiosity.
I have included excerpts from some of my most recent exhibitions with images and brief catalogue quotations or explanations.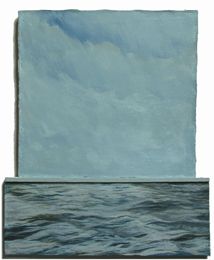 Wave Patterns
1999
acrylic on pieced canvas and wood
16" X 14"