Grimsby, Ontario
catalyst / resurrection
Grimsby Public Art Gallery, 2006
Curator: Rhona Wenger
Artist Statement:
Initially this work came as a result of the forest fires in British Columbia a few summers ago. There was one image from a news cast of charred trees in an orchard that was haunting. Trees and charcoal were the beginning that led to a new body of work.
Drawings of tree structures in charcoal led into paintings. By painting plant material in reds rather than green, I have alluded to the connectedness of the animal kingdom with plants. The red of hemoglobin is parallel to the green of chlorophyll. There is similar molecular structure which is coloured red with iron in the one, and green with magnesium in the other. Each of these chemicals is involved in the transfer of oxygen. Our respiration is a mirror process of plant respiration. Red is a complimentary colour to green. The tree is a metaphor for life.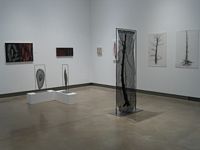 Installation
catalyst / resurrection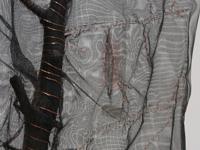 Trace Residue (detail)
charred cedar tree, mixed media, steel frame
72" x 30" x 15", 2005
"Each artist has an organic working process that takes an idea and explores it in a variety of directions, and in different media. The finished product in one piece becomes a working tool for the next."
Exhibition essay "Catalyst" by Rhona Wenger
"Each of these artists is inspired by the natural world — its cycles, processes and manifestations. They manipulate, dislocate and expand the potential meaning of the materials which they use in their work....Hawksbridge frequently uses found objects, often altered by nature, as inspiration, material resource, and subject matter. ...the artist is attracted to the intersection or juxtaposition of natural and cultural worlds."
Exhibition essay "Resurrection" by Virginia M. Eichhorn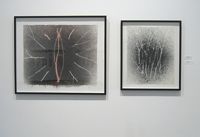 (left) Pink Shield
water colour, ink mulberry paper
33" x 39", 2004
(right) Many Traces
ink on mulberry paper
29" x 25", 2004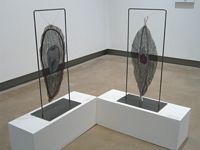 (left) Peony
digital image on Mylar, mixed media, steel
31" x 15" x 8", 2005
(right) Rose
digital image on Mylar, mixed media, steel
31" x 15" x 8", 2005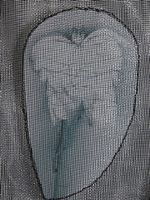 Peony
Close-up
---
With gratitude:
the Exhibition Assistance Program
of the Ontario Arts Council