Banff, Alberta
Joan Hawksbridge @ Slo Mo
The Other Gallery
Banff Centre for the Arts, 2001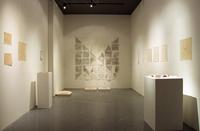 Installation
The Other Gallery
Banff Centre for the Arts, Alberta

This exhibition was an installation of work produced during the seven week Thematic Residency Slo Mo in October to December 2001.
The primary exploration of this work was based on the concept of fossils as time capsules. The fossil is the capture of an instant of time which is held in a permanent rock envelop. The Banff Papers are a series of 'moments' each containing brief idea-drawings held in hand made paper. The paper was made using abaca pulp and while it was still wet, the drawing of black threads was inserted between the layers.
Also, in the installation image there is a large, multi media piece using drawings on paper, suspended nails and ceramic pieces of "fossil" tools. This work examines the process of exploration and removal of fossils of the Burgess Shale in British Columbia to the Smithsonian Institute.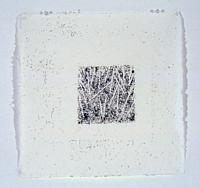 Banff Papers: Full
hand made abaca paper with black thread
14" x 14", 2001