Homepage

Back to:
Guest Gallery

Handbook



Art Concrete Guest Gallery: Nicholas Rees
Nicholas Rees
Concrete Sculpture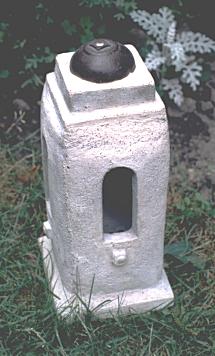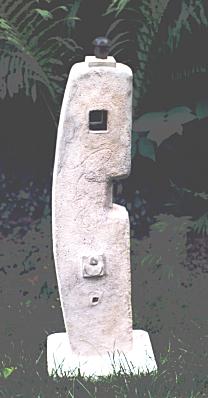 Carillon (left), Cardinal Post (right), ferro-cement

Nicholas Rees is an artist from Kitchener, Ontario, Canada. He makes large outdoor pieces sometimes incorporating found iron objects. He started working in ferro-cement in 1986, working with chicken wire and a bag of sand mix cement. "The first piece was a four foot tall tower intended for the garden, with an arched roof. It has survived nearly 17 winters and seems set for many more," Rees says. He still keeps the technology to a minimum, using sand mix, chicken wire, pliers, snips and a small cement trowel.
"Ferro-cement is exceptionally versatile, not only in its ability to be shaped, but also the way it combines with other materials, particularly wood, copper, steel, stained glass and tile."
Back to Guest Gallery list?
---