Homepage

Back to:
Guest Gallery

Handbook



Art Concrete Guest Gallery: Peter Powning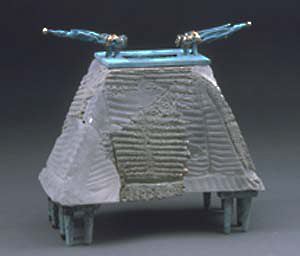 Zoid Reliquary:
Peter Powning
Concrete, glass and bronze. 9" wide X 9" tall X 7" deep.

"This piece deals with a form that derives from medieval reliquaries. My twist is that they are meant to be about what is really sacred: the 'natural' world and how we relate to it and fit in it. They are also about the object itself and the metaphor of fragmentation. Things coming apart and being reassembled, being physically or emotionally 'shattered' and then 'pulling oneself back together'.

"I like the tension between classical materials and modern and the way the concrete can accomodate and embrace other materials. As an amorphous matrix it can absorb or include the alluvial wash from personal gatherings which reveal themselves here and there (or not). It can work on a metaphorical level as the stuff that binds us/things together as disperate and unaccommodating as we/stuff can be. It can replace that which has gone missing and bind what's left together in it's grey embrace. Hold me back! We're talking about concrete. It's cheap and predictable; I like it."

Peter Powning
http://www.powning.com

Back to Guest Gallery list?
---