Homepage

Back to:
Guest Gallery

Handbook



Art Concrete Guest Gallery: Robert Jackson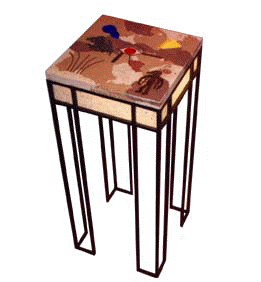 Table:
Robert Jackson
12" X 12" X 28" high. White portland cement, pigments, antique glass, steel.

"The top is cast cement colored with earth pigments like iron oxide and yellow ochre. Imbedded in the top are three pieces of inch thick antique glass, the brighter red, yellow and blue elements. The crow-woman in the lower right is acid etched steel as are the 'lines' in the lower left corner. The rest is just the tinted cement. It is lit from below with a light box. The base is 3/8 inch etched square stock.

"For this table picture I made a light box from milk colored plexi and lit it with a small flourescent fixture, covering the plexi with Thai paper, a kind of ricepaper. It shines down, out and up through the thick glass embedded in the concrete causing the table to look like it has a pool of gem-like light floating in it, especially at night. In fact the table is as much a lamp as it is a table as it is a piece of functional art. This one was made for a woman who uses the crow image as a symbol for her spirit and moving in life's journey so the table tells a story as well."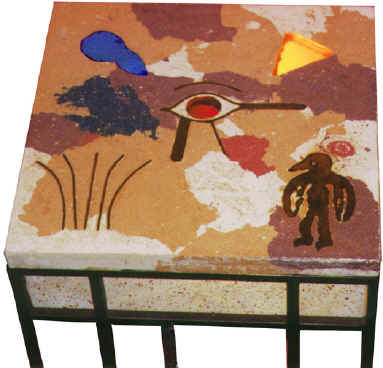 Robert Jackson


Back to Guest Gallery list?
---