Homepage

Back to:
Guest Gallery

Handbook



Art Concrete Guest Gallery: Amy Lennard Gmelin
Amy Lennard Gmelin
New Port Richey, Florida USA
Eclectic Concrete




Concrete Incense Burner Bowl with recycled rusty chain, 2011, 5" x 5.5",
portland cement, sand, concrete colorant and stain
Concrete Cone-shaped Oil Lamp w/rusty metal stand, 2011, 13" x 4",
portland cement, colored sand, concrete colorant and stain
"If I had to use one word to describe my artistic style it would be "eclectic"-- many different shapes, colors and textures--I don't like to do the same thing twice. I'm not sure if that is because I love to experiment or I just have a very short attention span. What all my pieces have in common is that they are all formed from grey portland cement and they all have some type of function--vase, planter, oil lamp, etc. I started working with cement a few years ago when I grew tired of buying planters for my ever-expanding container garden. I decided to make my own, and those first primitive hypertufa planters evolved into the functional sculptures I create today."
"I use many different techniques in my work--casting from cardboard, plastic or glass molds, carving, hand forming with wire armatures, the list goes on and on. I have many more failures than successes trying all these techniques but the fun and excitement is in the experimentation and somewhat surprising outcome. I love seeing how far I can push the envelope when it comes to concrete--isn't that what art is all about?"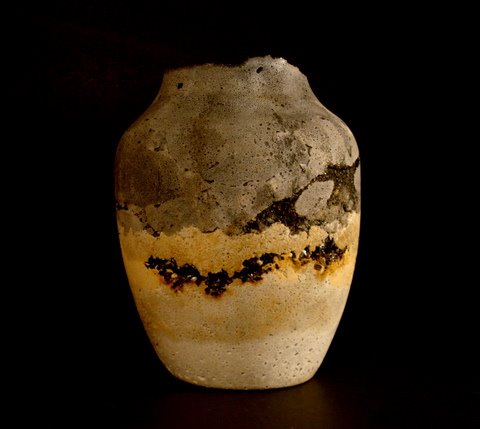 Concrete Vase w/Black Crushed Glass, 2011, 7" x 5",
portland cement, colored sand, crushed glass, concrete colorant
https://etsy.com/shop/mysterystone
Back to Guest Gallery list?
---