Homepage

Back to:
Guest Gallery

Handbook



Art Concrete Guest Gallery: Carla M. Fox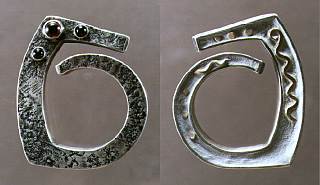 Mayan Ring:
Carla M. Fox
Silver, concrete, gold, garnet, citrine, and iolite. 1998.

"This ring started out as an exercise in hollow ring making. But it was also to be about "a place." Having just returned from the Yucatan Peninsula, the place was easy to pick. What I kept returning to was the dichotomies of Mexico.

"This ring is about those dichotomies: the silver side (left) being about the European and tourist influences in Yucatan and the reverse/concrete side (right) being about the real Mexicans, in this case the Mayans --- the simple materials they utilize to make their lives, the richness of those lives.

"The outer shape is both Mayan as well as very contemporary."

Carla Fox


Back to Guest Gallery list?
---