Homepage

Back to:
Guest Gallery

Handbook



Art Concrete Guest Gallery: Sue Dorman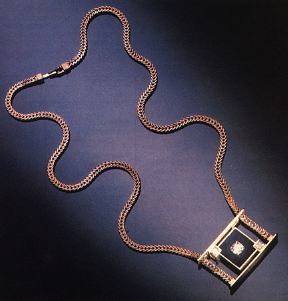 Necklace:
Sue Dorman
Black concrete, 14k gold, 1.04-ct centre diamond and two .31-ct side quadrillion diamonds. 1984.

"I only like diamonds when they are in concrete," Los Angelese jeweller Sue Dorman was quoted as saying in a 1984 Ornament Magazine article. She started using the combination in 1975 as part of her Master's Thesis. As well as Ornament, her work has been featured in several other publications including Jeweler's Circular Keystone.

"Each year I make bigger pieces. When I decided to buy a one-carat diamond and put it in concrete, that was very exhilarating. The existence of this piece gives me a thrill."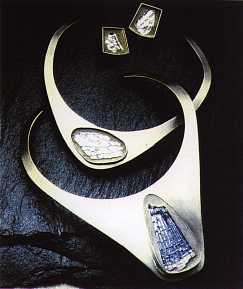 Necklace and Earrings:
Sue Dorman
Nickle silver, broken car window glass, concrete. 1984.

Dorman began teaching at Loyola Marymount University in the fall of 1988.In 1995 the Mechanical Engineering department and the Jewelry department received a grant from the National Science Foundation for CAD/CAM equipment.She has had two students win the national Debeers "Diamonds Today" award and one student win the Debeers International Diamond Design award.




Sue Dorman
http://www.suedorman.com

Back to Guest Gallery list?
---