Art Concrete Guest Gallery: Scott C. Damschroder
Scott C. Damschroder
Texas
Concrete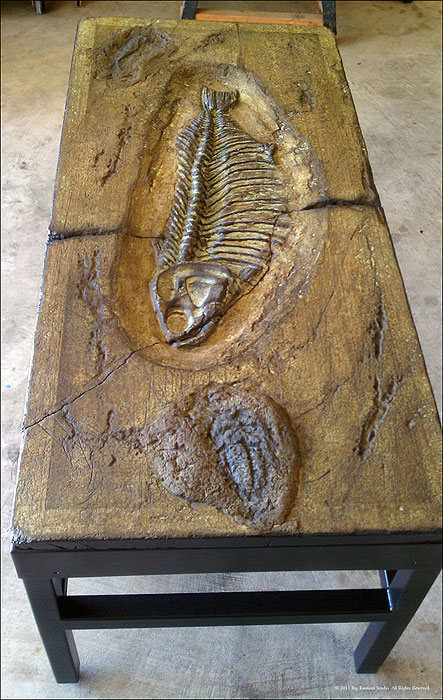 Scott Damschroder describes himself as a writer, an author and an artist.
"It is Emerson who is quoted saying: 'Every man is my superior in some way. In that, I learn of him.', and I try to keep this quote in front of me each day. My fossil work with concrete has been nearly three years in the making as I worked to experiment and perfect processes that allowed the concrete to end up as my intended artwork, and at the same time used the concretes attributes to my benefit in the process."
"The amazing thing about working with cement and concrete is that it's never a dull moment in the shop as every change in the mixed media and technique brings an equal and unanticipated change in the concrete itself. The process of learning to work effectively with it, producing consistent results, is the real artwork. The resulting art piece is the end product of my love of the trail and error process. I make what I love and enjoy and then try to find people who love and enjoy what I make. It's that simple for me."
"The process of creating these works is at once complex, technically demanding and extraordinarily labor intensive. It involves first building a steel framework (referred to by sculptors as an "armature"), securing and forming metal mesh known as "lath", then building up multiple layers of concrete, mortar and often pure cement paste."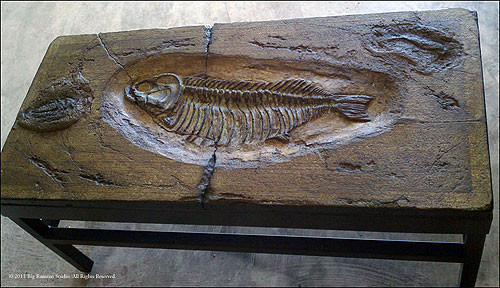 "This table is cast as a large full piece using a form for the large fish body only. The other two fossils (a sea horse and a trilobite) are hand carved from castings into voids on the surface after initial casting. The whole casting is then finish carved and aged all by hand, mounted on a stainless box and then a custom built square tubing steel table."
scottd@bigransom.com
www.bigransom.com
Back to Guest Gallery list?
---