Art Concrete Guest Gallery: Deborah Brackenbury
Deborah Brackenbury

Concrete Bowls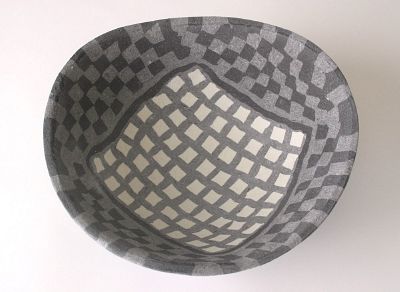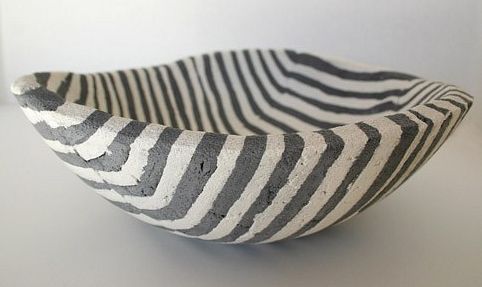 Left: Checkered concrete bowl, 12.5" X 4.5"
Right: Concrete Zebra bowl, 12" X 4.5"
"A friend walked into my studio the other day, turned to me and said, "It always smells like candy in here." Maybe that's what I love about working with concrete. The smell, feel, and varying textures of concrete have certainly dictated the types of colors and shapes that I choose when making my vessels: colors like licorice black, chocolate brown, creamy white, and lemon lime. My love of baking has also come into play in how the concrete is manipulated. I find myself rolling out slabs of cement like pastry dough, then stacking layers of colored concrete like baklava and making roll-ups like ice-box cookies. These techniques have resulted in multi-colored concrete vessels that are made through a unique process of layering hand-cut colors of concrete in molds and wet-carving the green concrete. Each piece is finished with a water-proof sealant. The vessels may be used inside or out as serving platters, fruit bowls, vases, birdbaths, or decorative additions to the home or patio. If used outdoors they should be protected from freeze/thaw cycles."
-Deborah Brackenbury
Brackenbury's work is marketed under the name Impure Vessels.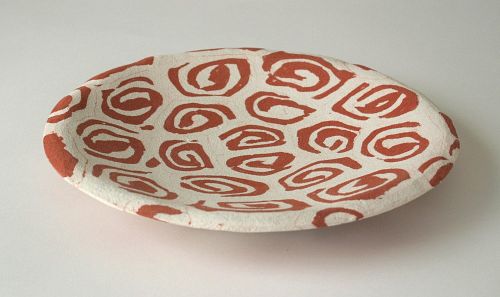 Cinnamon Roll concrete plate, 11"
Back to Guest Gallery list?
---