Art Concrete Guest Gallery: Carol Boram-Hays
Carol Boram-Hays
Columbus, Ohio
Concrete Sculpture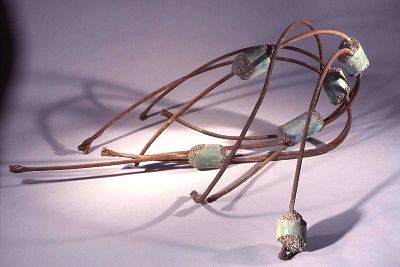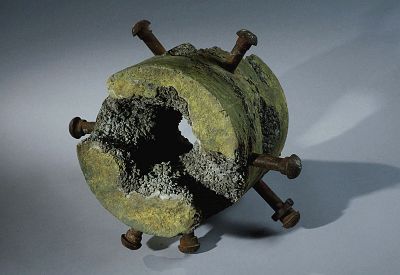 Left: "Cocytus"; cast concrete, elevator cable, and pigments; 26" X 38" X 50"; 2007
Right: "Flywheel"; cast concrete, found metal, and pigments; 16" X 16" X 14", 2001
Photos by Chas Krider
"My inspiration comes from America's crumbling post-industrial landscape. I am exploring the relationship between architecture, memory, and nature. My work seeks to embody the unresolved state between the built environment and landscape, organic and inorganic, past and present, history and progress, industrialization and the environment, the spiritual and secular, and the modern and the postmodern.
"Most of my work is cast from a standard mixture of portland cement. At times I will use styrofoam as an element of the aggregate to help keep the weight of the pieces more manageable. The coloring is done by applying raw pigments to the surface of the sculptures and sealing the pigments under layers of clear spray paint. Concrete is my medium of choice because of its connection with industrial architecture and the way it, combined with found metal, convey the idea of weight and mass."
-Carol Boram-Hays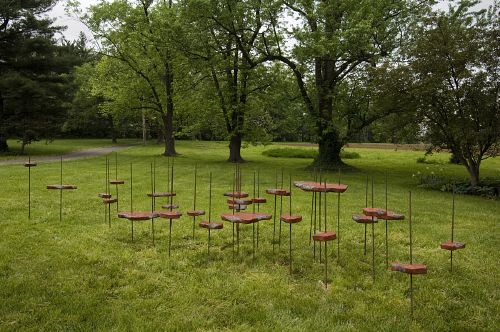 2. "Liminal Landscape"; concrete, styrofoam, rebar, and pigments, 4.5' X 8' X 24'; 2006
Photo by Tony Walsh
Back to Guest Gallery list?
---