Art Concrete Guest Gallery: Heath Beeman
Heath Beeman
Urban Elements, Denver, CO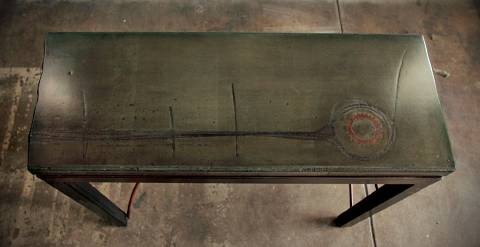 My company is called Urban Elements and is located in Denver, Colorado. We focus on interior architecture, specifically custom art furniture, lighting, and accessories. We are --not-- countertop guys.
Often times our comissioned work excludes concrete due mainly to customer decisions. Despite that, concrete and its capabilities are of the most import in my personal design philosophy. I always try to sell concrete, and every non-comissioned piece I create includes the material in some form. Our retail gallery, which is currently being developed, is as much a showroom for my designs as it is a tribute to the most fundamental of modern civilization's materials - concrete and steel.
I have two guiding principles for my work, both of which can be mostly found in the Japanese theory of "wabi-sabi." ("Punk elegance" is a phrase a younger kid used to describe my work.) In a word, I could say that I am most influenced by entropy. My work glides upon the aesthetic line between manufactured precision and artistic accident - and the combination of both, the incongruency, allows the pieces to have an emotonal gravity otherwise not available.
The proces isn't too different from my contemporaries, at least here in Denver. A standard high strength mix (2:1:1 sand, small aggregate, portland) with the addition of flyash for shrinkage reduction and a superplasticizer for flow into the mold. I use 1/2" melamine for standard pours, however I've been leaning towards mdf with a top-secret coating for the really interesting work!
I use about anything I can get my hands of for coloration - universal pigment (paint store colorant) dyes, powdered pigment, acrylic for inlays, etc. I've found a petroleum based color enhancer that is clear, and the addition of fine oil paints creates an awesome penetrating stain. Used alone or in combination with acid treatments and integral coloring, almost any color is possible with exceptional durability and vibrancy.
http://www.urbanelementsdenver.com/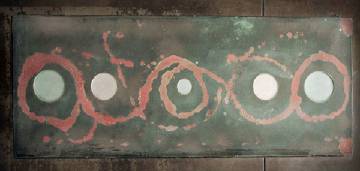 Back to Guest Gallery list?
---