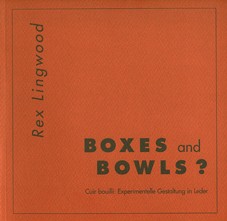 Rex Lingwood Boxes and Bowls?
Cuir Bouilli: Experimentelle Gestaltung in Leder
This is the catalogue to The Deutsches Ledermuseum's 1995 touring exhibition curated by Rosita Nenno. It is ninety pages long and contains over 40 colour photographs of my work. There is a forward by Dr. Nenno, essays by Stephen Hogbin and Jennifer Rudolf, and my notes on the work. All text is translated into English, German, French and Dutch.
Cost $25.00 CAD or $25.00 USD plus shipping.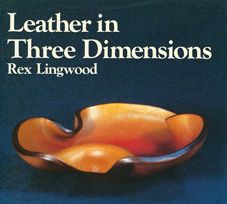 Leather in Three Dimensions
My 1980 book on forming and colouring techniques is still the major work on the subject . This 112 pg book is lavishly illustrated with both colour and black and white photographs of my work and techniques.
Soft cover: $30.00 CAD or $30.00 USD, plus shipping
Hard cover: $40.00 CAD or $40.00 USD, plus shipping.
Note: This book is now available only from the artist and the supply is limited.
Table of Contents
Acknowledgements 4
Introduction 9
1) Leather 11
Tanning, Parts of the hide, Weight, Qualitiy
2) Tools 17
Tools, Work Area
3) Colouring 41
Applicators, Colouring with Dye, Colouring with Paint
4) Bonding
Glues, Laminating, Bonding Parts
5) Shaping 51
The Leather, Cutting a Pattern, Dampening, Shaping, Colouring, Drying
6) Design 57
First Shaping Exercise (The Basic shape, Variations, Changes in Process, Changes in Pattern)
Second Shaping Exercise, (The Basic Shape, Variations )
7) Scale 89
Technical Considerations, Laminating for Large Scale Work, Using Power Tools
8) Finishing 101
Dressing, Protective Finishes
Selected Bibliography 109
Notes on Supplies and Suppliers 110
Index 111

Note: This book is now available only from the artist and the supply is limited.